13th Freiburg Marathon
Great team
Exactly at 08:23 the train from Badischer Bahnhof Basel left to Freiburg, Germany. Next to me on board: Salva, José, DJLuc, Marina, Piero and the Abgottspon sisters (with three of them even more confusing).  Onur was already waiting near the starting area . You could not miss his big camper, prominently parked in the best spot. He picked up the starter bags the day before and stayed over night. From time to time other people dropped in, time to change clothes and get ready for a last picture!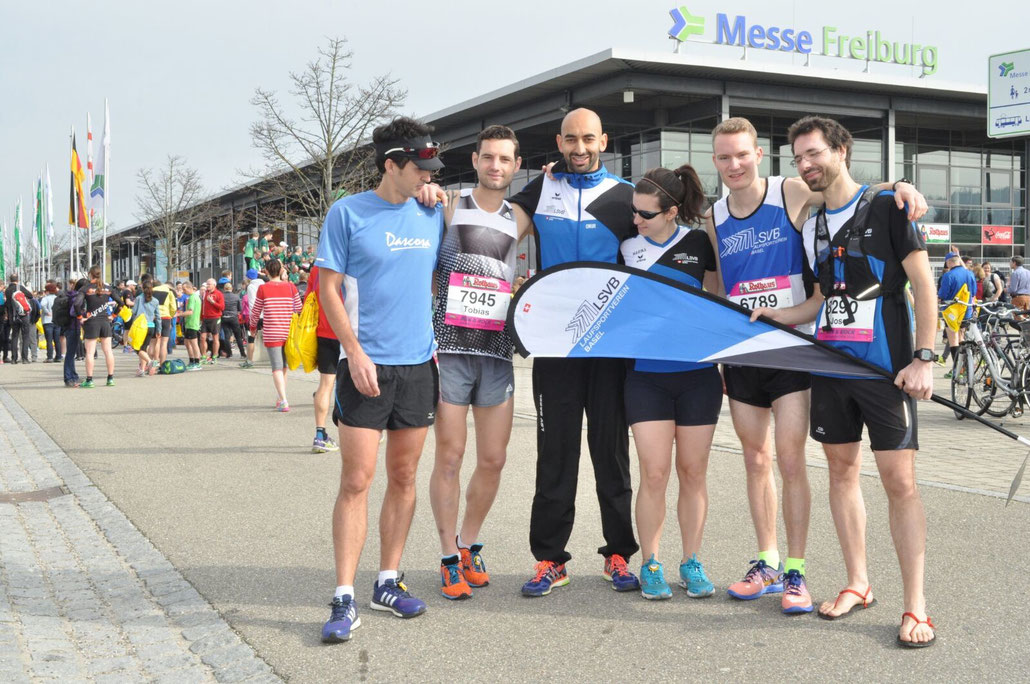 The start
The conditions were perfect for both, runners and spectators. Mild temperatures, cloudy, no wind. Already to warm Tobi meant, who was doing the warm-up with me. And I agreed, without even running you could feel the sweat. My mission for today was set: Try to run my target Half-marathon pace of 03:30 which I already did last week during the trainings. Additionally collecting experiences for Nizza, for instance how my new shoes are doing. Other people like Salva were just running for fun, others as a preparation for a marathon and last but not least some like Sandrine who were also opting for a new PB.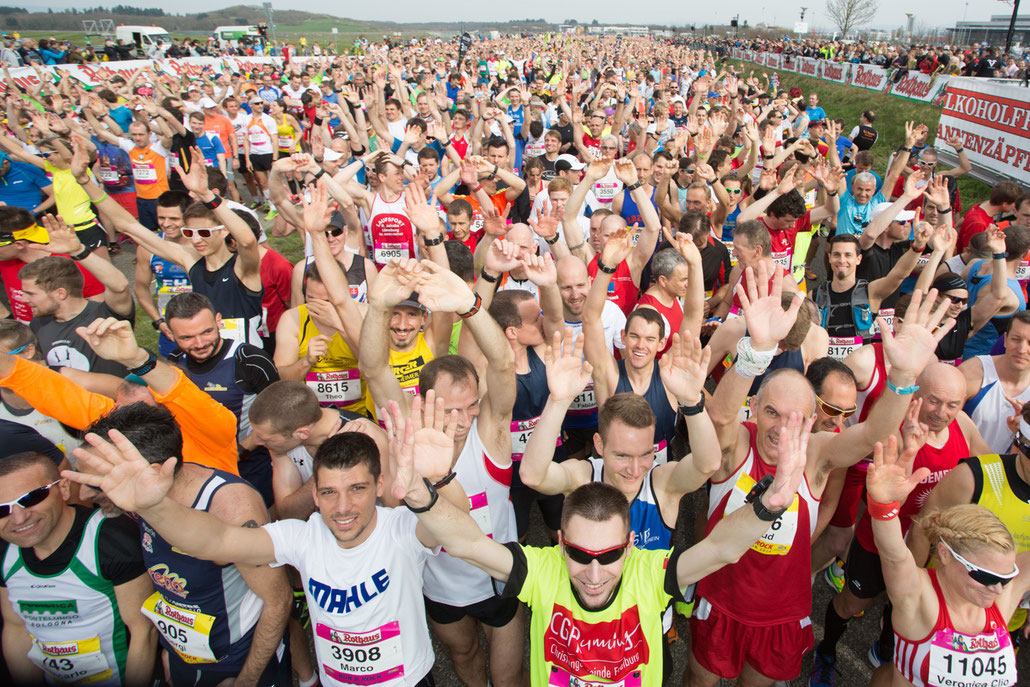 Easy
Already in the first turn after few hundred meter you heard playing a band. From now on every km music was playing. Funny, that the Reggae band turned me on the most and absurd that some people were even wearing headphones. I started the first km too fast, normal for me, but finally  found my pace easily. I first was running behind an other guy I afterwards saw after the finish line. But quickly I needed to run on my own.
Naturally I wasn't all alone, the city was really crowded. People I did not know where shouting my name "Klasse, David" "Weiter so", probably they read my name on the bib. Also DJLuc, Jan and Romina  were cheering or taking pictures. The course routing allowed to watch several times the opposite lane, so I saw the leader and other team members.
First doubts
After five km  I saw my watch telling me I run my last km in 03:40. Fuck, what is happening. Unfortunately  the difficult part of the course was coming, with a gradual slope. I had too many thoughts in my head, instead of having the focus on the race. Then I said stop, concentrate again and just run. Forget the watch, it's normal to be slower here. I set the 12km-mark as a new target, were it goes down. 
Let it (Rock'n') roll
Actually this helped. I was able to run very constant. I only slowed down once I took a cup of water to nip on it, but the other drinking stations I skipped. Funny when there is an endless row of people reaching out there hands with a cup and you are the only one and not taking anything ?!
After 14km we were reaching again the urban part. The cobblestones from the old city were coming closer. I had passed some guys, two or three? I don't know. Actually another runner came closer and overtook me. But this was the last time something happened. The gaps were too big and I can not rememember that I looked back once during the whole competition.
Empty legs
The last kilometres were tough, tough, tough. I pushed very hard, normally you get faster when pushing and I really like to do this at the end of a race. But nothing happened. I have to be satisfied that I could maintain my speed. Certainly this was awful to watch, I made grimaces instead of laughing. At least some muscles which were working properly anymore. I felt pain around my right toe, probably a blister.
Isotonic drinks
When I saw the finish line and realized, that the clock still was at 01:14, I could'nt been happier in this moment. Then I also met the guy who I was following after the start. His name was Sebastian, from Freiburg and he run a 01:15-time. Actually his first Half Marathon, without training for it. This is pure talent! Later after a beer (alcohol-free)  I met a very satisfied Onur. He run a new PB too, under 01:24. Congratulation! So what about the team championship? Unfortunately Tobi had to dismiss after he twisted his ankle. Also Tony started to fast and needed to slow down during the race. Strong he still managed to finish. 
Conclusion
Tired, but happy our day ended at Martinsbräu. The Feierling would have been the better choice since the waiters were really unfriendly. Maybe this is the cause why it was almost empty but hey, who cares? To make a short conclusion: Yes I'm satisfied, my plan seems to work! The shoes (Nike Lunar Tempo) are comfortable and light but I will use again the NewBalance Fresh Foam Zanté for Nizza Halbmarathon. Target: Under 01:14.
year: 2016 (in comparison to 2015)

time: 01:14:23 (-5:08)

place overall: 9 (-29)

place m20: 6 (-7)