A Summer to Remember
It shocked me when I saw, that my last post is already one month old. But I wasn't surprised, since I knew I barely had the time to write. So this is going to be a longer post and will take you a while to read. I can't explain everything but give you an insight what bothers me since the beginning of June.
Changes with huge Impact
Before I start telling you about my changes or targets in sports, I need to inform you about changes in my working life. As you may know, I've been working since last year as a Laboratory Technician for a big pharma company. My contract ends this summer and sadly cannot be extended. The causes are structural changes in the group, where people lost their jobs. I've known this for a while, so I started to apply early for other positions within the company and outside.
Thanks to the support of the group and my acquired skills in the specific field of stem cell research I was able to gain a job. It's not just a "job", instead, this is going to be fantastic and highly interesting work. In August, I will move to the ETH Zurich where my task is to help build up an organoid platform. I am looking forward to this. On the other hand, this means I need to leave Basel-city and move near Zurich. So I am looking now for a flat in this area.
For running this shouldn't make any difference in a mid- to long-term aspect. I will stay at BRC and try to come to the training in Basel for - let's say - once a week. During the week, I will run in Zurich (Hoenggerberg seems to be nice for that) and maybe also use training  from the academical sports association or together with other runners.
Naturally I will miss the people from Basel and BRC.
Track Running

I think it was half a year ago when I first thought about running a race on a shorter distance on the track. A lot of good marathoners started their career as mid-distance-runners on  the track and later on increased distance and swapped to the road. My start has been on the road, especially with 10k's. Then I increased training volume and finished a Half-Marathon and Marathon. Afterwards, everything seemed to be achieved. Only a better time or to experience a special race were new challenges. So my thoughts have been: When training on the track, why not running on the track in a competition? The settings are quite different to the one's I am used to on the road. Your opponents are always in range (before or behind you) and there are no surprises on the route. The tactic is to finish strong in the last lap. It's going to be fun to try out. So I developed the idea to use the off-season month June for a 3000m, as I never run competitively such short distances. Hobnailed boots are already bought. Our Coach from the LLZ Nordwestschweiz taught me to do the right intervals (+pace, +resting time) to be prepared. Thus, I will start in two weeks at Schachen Cup Brugg/C-Meeting 3000m for BRC.
A Tower Run & A Charity Run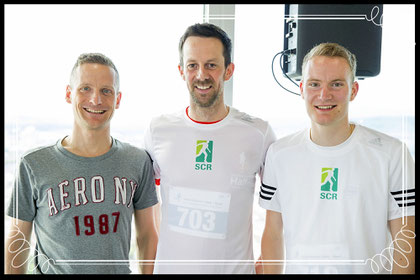 The idea of Schachen Cup is fitting well with other short races during June. This Wednesday I climbed all stairs up the biggest tower in country. A total of 37 floors needed to be surmounted in the first "Tower Run" where 50 participants were allowed who collected over 100CHF for the yearly Charity Run "Children's Walk". This is a social Engagement of Roche for schoolkids in Africa. I didn't go near my personal limits as I wanted to use the "Children's Walk" the next day for a fast training. With the new Sportclub Roche shirt (new logo) I needed 13min10sec for roughly 4km. This was fine, especially slippery pathways through the non-stopping rain plus the stairs from the Rhein/Grossbasel up to the Wettsteinbrücke needed to be in account. Moreover this event was also ideal to meet up with the other runners from Roche, as I leave the company. Fortunately I can stay in the Sportclub Roche which gives me the advantage of 50%-reimbursement for many running events , even when I leave. This means that the Firmenlauf Basel next week is going to be my last one for Roche.
Holidays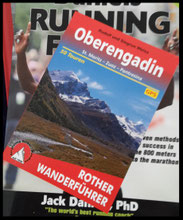 After jet-setting (Spain, Croatia, France) earlier this year I stay in Switzerland during the main holidays. I will go to the Swiss mountains/ Engadin together with Corinne. There we will stay in a normal appartment first and than switch to a more luxurious hotel later on.
I'm really delighted spending my summer up there hiking, swimming, running, biking - but also relaxing, reading books, cooking (or have dinner in nice restaurants), doing wellness. The appartment is ideal for having other friends around, whereas the hotel is ideal for chilling. Hopefully the wheater will be "normal". Afterwards I'd like to say:
Yes, this was a summer to remember !!