Pumpkin-Potato Croquettes
Seasonal Cooking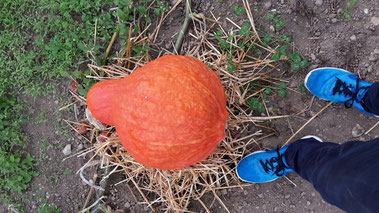 This year we only got two pumpkins, but special big ones. So three-quarters of the first one, I distributed to family&friends. One-quarter I processed myself. In total it weighed 15kg!
Instead of cooking soup, there are other ways to use pumpkins. About two years ago I found a recipe for mashed potatoes with pumpkin. So I tried this and the leftovers I roasted or baked in the oven with oil. Actually you can use the standard recipe for traditional swiss mashed potatoes (with Bratwurst and brown sauce).
Ingredients
---
Potatoes 2/3
Pumpkin 1/3
Milk
Flour (optional)
salt
pepper
paprika (sweet)
yellow curry
nutmeg
oil
---
Preparation
First cook the peeled and sliced potatoes and the pulp from the pumpkins, without the seeds in salty water. It is important to use more potatoes than pumpkin, because of the consistency. For the potatoes, you need about half an hour, for the pumpkin about a quarter. 
Then you drain off the water and use a mixer to make a puree. Therefore add some milk. For the flavour add some salt, pepper, paprika, yellow curry and nutmeg. If the puree is too moist, add some flour.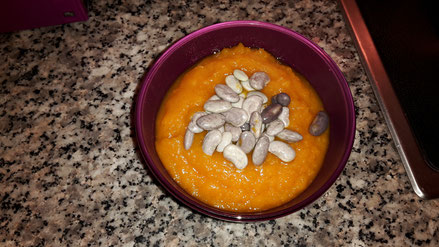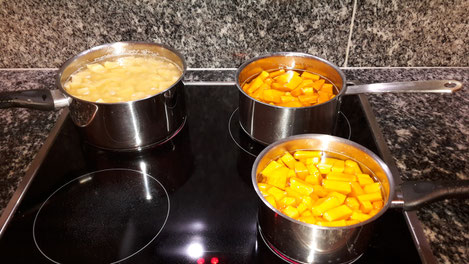 Preheat the oven. Form small  balls on a backing plate covered with a paper. For this step, there are no limits for your creativity! Add some oil to the croquettes with a brush and let them bake at 180°C for about 40min in the oven. 
<- One the left. Pumpkin-only puree with beans. Sorry, I have no picture from the croquettes.