Special Training and Pasta Party
This Saturday I organized a Special Training for the club at my new home in Dietikon. Already the week before I prepared everything. The fridge needed to be filled with enough liquids and for the Pasta I cooked a tomato sauce. The route was set. In earlier runs I investigated an interesting one of about 16 kilometers. Everybody should be able to do it, the speed is adjusted to the slowest ones. Two ponds were passed by, with a lot of up&downs at the beginning. Most parts went through the forest and fields, and finally after passing a more urban part we followed a flat gravel path along the river "Limmat".
Finally I welcomed nine people. Three people joined later.  Until we were able to start, we needed hunting a bear. The "bear" is the wallet of a runner and it  got lost in the train. Luckily, after a phone call from Thomas the driver handed it out at the final station. So I drove to Bremgarten with Serena to pick it up. Now we were ready for taking a group picture.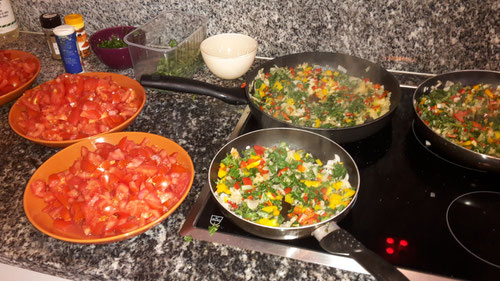 The settings were perfect. Nice weather, warm, perfect for a morning run. Also for biking, Luc followed us by bike. He even traveled the whole way from Basel to Dietikon by bike.
Almost halfway of the route, all runners were surprised with a snack at the fountain. After coming home and having a shower, we prepared the Pasta and enjoyed our meal with homemade salads.

Then we were in the mood to hole. We visited the minigolf station "Mühlematt" and built groups. It took us a while to finish all eighteen holes, but it made a lot of fun. Marc was the clear winner. Before going home, everybody tasted some of the delicious cakes and a took a last beer or coffee.

Thank you for coming: Ivo, Mirjam, Edith, Irene, Marc, Rainer, Luki, Serena, Thomas, Yvonne, Luc