Throwback to My Year 2017
2017 has been another good year with lots of races and Personal Best's. In total I ran 20 races, some as a training purpose without ambition, some well-prepared and others as team races, which always has been a special spirit . Again a lot of podium's and victories, but most importantly I stayed tuned to my body and could enjoy an injury-free year. I always liked to go to that starting line. The main focus in spring and autumn lied on a solid build-up for the Half-Marathon. The time in between in summer I used for races on the track over shorter distances. Memorable moments were for sure the journey to Istria for the Half marathon in spring, where I could win the Half Marathon for my surprise in addition to achieve my goal time. Also the clear win at my home mountain race Homberglauf (background pictures), the Marathon-Relay in Basel together with BRC were some other highlights. Nevertheless, this moments of success are just some snapshots, the long way to them and the learning process are the most satisfying. This has only been possible because of the company from my club mates from Basel and Zürich, people I run together.
Sports Mix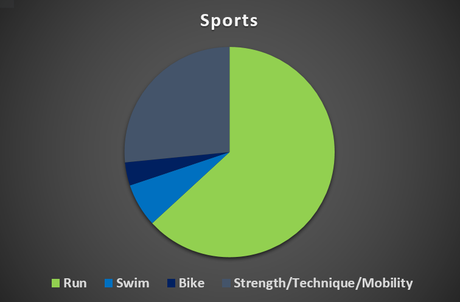 As a dedicated runner it is seems logical that my main exercises were "running". Although I would like it, to go for a run every day this not the case. Other  sports like swimming or cycling are a convenient alternative. Strength, mobility and technique exercises are an important part.
Generally one should ask the purpose of his sports. For me it always been the enjoyment of being physically active, being outside ,sometimes for me alone, sometimes together in a group. To compete against others in a race and the feeling afterwards when you gave it all. To set ambitious but achievable goals and see how you can improve.
Running Mix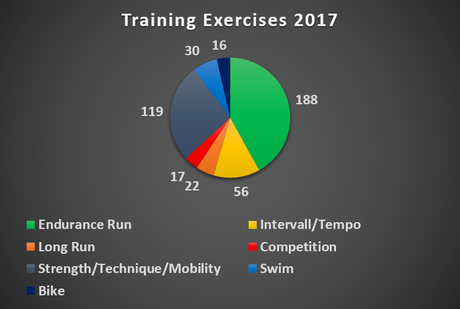 Running =Running is not the case if you take it serious. Running the same route in the same time all the time would not make sense and you would loose your sense for running. A run can be slow, moderate, hard. A mix of both which is called fartlek if it is unstructured or interval if it is structured. It can be short or long. Hilly or flat. Just to flush your legs with some blood or a very specific workout for one's target competition. So when I trained for my races I also added Long Runs, Tempo Runs, and Interval as quality workouts. It is also possible to mix different types of methods, for instance finishing your Long Run in a tempo effort. With the right amount of recovery in between this more intensive quality workouts one can gain stamina and speed.
Training Cycles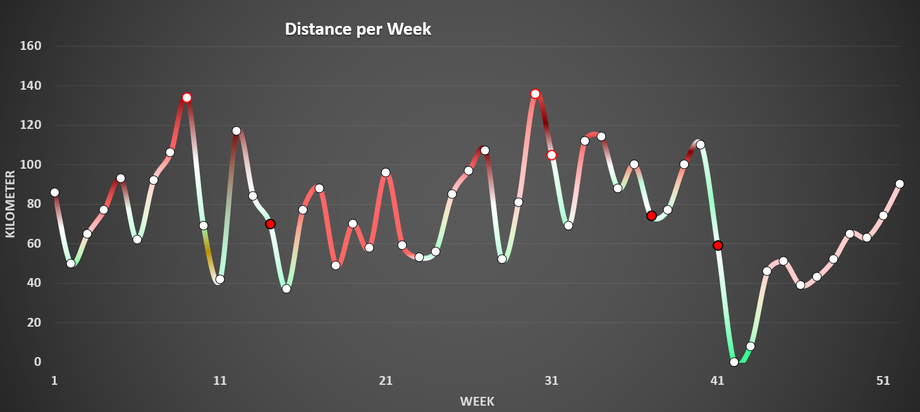 All Training is done in cycles. Set a stimulus, wait for the body to recover, gain fitness, set a new stimulus. This is called a microcycle.
More specifically one can work with mesocycles for the preparation phase of a race. This normally means 8-16 weeks of build-up, where after 2-4 harder weeks an easy week is introduced. For the Istrian Half Marathon in April I followed a more or less a strict build-up which already started end of December in 2016. Every mesocycle included 3 distance and quality build-up weeks which were followed by an easy week, where distance and quality was reduced substantially (This can be seen from week 1 to 12). This means I started every new cycle with fresh legs and was able to accumulate distance and intensity.  Every mesococycle also followed a specific target. In first place you want to slowly increase the distance and then work your way from less specific workouts like fartlek sessions to more specific workouts like threshold runs or long intervals in half-marathon goal pace. That does not mean that I always stick to my plan. If it works good, I can do more. If it works bad, I can do less and give it more time to develop. I stuck to my general long-term plan but also kept it flexible. In week eleven I caught a really insane cold, so I took a break and started after I fully recovered. In the Taper phase 1.5 weeks before an important race you get the benefits of your increased fitness plus you stand fresh on the starting line. Afterwards I usually spent at least one week for recovery with few easy runs.
The whole build-up for the Half-Marathon is called a macro-cycle. In between this cycles in summer I spent more time running shorter races (3km-16km, road and track) with a reduced but stable amount of running distance and again shorter intervals. After my third Half-marathon mid-October I enjoyed a break of almost two weeks until I slowly started into winter-training with a higher focus on strength and technique. In total I logged a good 3900 km which gives me an average of 75 km/week, a gradual increase since 2015 which will surely pay-off for the future marathon preparation.
Quality vs. Quantity, Specificity vs. Generality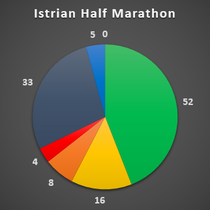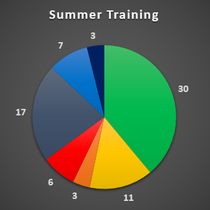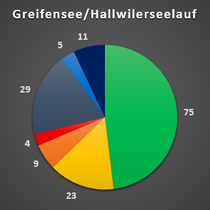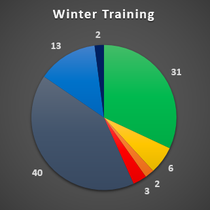 The numbers indicate the count of workouts. Again green stands for endurance run, yellow=interval/tempo, orange=long run, red=competition, grey=strength/technique/mobility, blue=swim, dark blue=bike.
As you can see both preparations for the half-marathon included a lot of running at various speeds, intensity and distance. Therefore running is needed to be prepared specific to the event. In the beginning of the training I may also had a day for swimming, an additional strength or technique exercises and one or two days off which were replaced by runs in the later stages. Also the runs themselves get more specific, as the Long Run distance increases and likewise the time spent in the area of the target race pace.
In the summer I wanted to do less amount of training, but the intensity respectively quality remained high (as you can see). I enjoyed a lot of competitions which normally are not fitting during preparation for a special race.
As such preparations which includes demanding workouts and especially the race itself are exhausting, I added a planned recovery break in autumn. Afterwards the quantity and quality of running was decreased substantially to allow your body and mind to refresh. During this time I did all the general things which normally are put aside: strength, mobility and technique. The runs themselves were on a general level, with low distance and a steady pace.
Race Performances
Undoubtedly my greatest achievement this year has been the unexpected win with a new Personal Record at the Istrian Half-Marathon. Over 2000 runners participated! After a successful preparation I could master an ideal race with perfect pacing and was 10 seconds faster than my anticipated goal time.
Also small (<500runners) local races without special preparation went well, especially the Homberglauf , which has been an important race for me. In the 5000m I probably set my goal time to high giving the fact that it was really hot on this day and I just had one try. The team runs were always great fun, especially the Marathon Ekiden Relay end of September. The Race where I felt the most comfortable although the pace was high was the Lenzburger Lauf
In the probably most competitive race at the Swiss Half Marathon Championship I reached a satisfying 9th position (18th overall).
| | | | |
| --- | --- | --- | --- |
| Overall Ranking | Single Competition | Team Competition | Training Run |
| 1 | 3 | 2 |   |
| 2 | 2 |   | 1 |
| 3 | 3 |   |   |
| 4 |   | 1 |   |
| 5 |   | 1 | 2 |
| Top 10 |   |   |   |
| Top 20 | 5 |   |   |
| Count | 13 | 4 | 3 |
The total race distance adds up to 231 km, mostly on the road. The altitude gain in those races were a total of 2 km. The most important fact is that I was able to start and finish each race healthy and had no major issue like breathing problems or even a drop-out. Both the mean and median pace lied at 3:24 min/km which interestingly exactly correlates to my flat Half-marathon pace. Last but not least another table which covers race distances and one which covers surface.
| | |
| --- | --- |
| Distance | Count |
| 21.1 km (HM) | 4 |
| 15-21km | 3 |
| 10-14.9 km | 4 |
| 5-9.9 km | 6 |
| <5 km | 3 |
| | |
| --- | --- |
| Surface | Count |
| mainly road | 12 |
| mainly gravel | 5 |
| track | 2 |
| cross | 1 |
I wish you all a happy 2018!
Stay tuned!