Successful Comeback in Bulle after one year full of uncertainties!
The weeks before..
Step by step I gained confidence in my knee. The therapy ended successfully in October. Just when I regained the again the feeling of running more or less effortlessly  and introduced again some faster stuff, I catched a nasty cold. I had to cancel my comeback at the Basel Running Day 10k two weeks ago and instead, focused on the Corrida Bulloise this weekend. I was happy that the organizers invited me to the race, despite running no single race this year. Unfortunately the sinusitis from the cold remained quite long and I was not able to do sports, rather needed to go to bed early to be able to work the following day. In the days before the Corrida Bulloise it improved a lot so I was quite sure that I would be able to finish the race. Under these circumstances my main goal was to just finish the race, without discomfort.
Into the race
I was looking forward to feel again the tension and thrill just before the race, which I missed a lot. This  moment when you prepare your racing-gear or get your bib. My mind was full of vivid memories from last year. Bulle is small town in the western, french-speaking part of Switzerland. The land of the Gruyère cheese. The old-twon is quite nice and on my way there I met Daniel and Manuel who were participating too. The race was packed with fast runners, the Top 10 consists only of international-level runners who are participating in the big championships.
Running fast again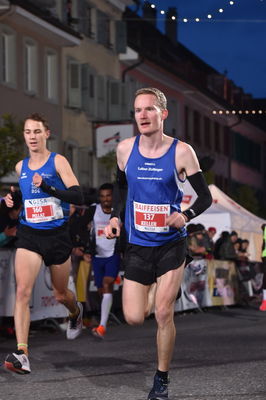 As we were waiting for the race to start, the top-athletes were introduced. I found myself in the back of the pack, just behind Daniel and Manuel. The gun went off and I found myself running fast in a comfortable way. Suddenly groups were formed, I stuck to a larger one in the back of the race with most runners in front of me. I was a bit worried, if I am completely recovered from the sickness but everything was fine. It was great to feel again the adrenaline-release kicking in! I just focused to the guy in front of me and although I had now idea about anything like "race-pace", it just came naturally. The people cheering around the loop, were fantastic. Half-way through the race I knew, there is now way I could  beat my time from the previous year, but I also knew, I still felt rather well and I can finish this race in a  satisfying way, considering the circumstances.
Finish strong
In the later stages, there were not more changes in the rankings. In my second last lap, already from the back I noticed the noise of motorcycle. The leader was lapping me and I switched to the outside, so he could pass. It was Isaac Kimeli from Belgium, former European Cross Champion and participant at this years World Cup in Doha. We met afterwards at the "pasta party" and winner's ceremony and he's a nice talkative guy. The last energy I used for my last lap, I couldn't drop my opponent and was outsprinted to the finish line. Anyway, it didn't matter. I was very pleased to finish this race without any physical issue after such a long time. (Basler Stadtlauf, Nov 25th 2018)
Elite Men, Corrida Bulloise, 8.161km